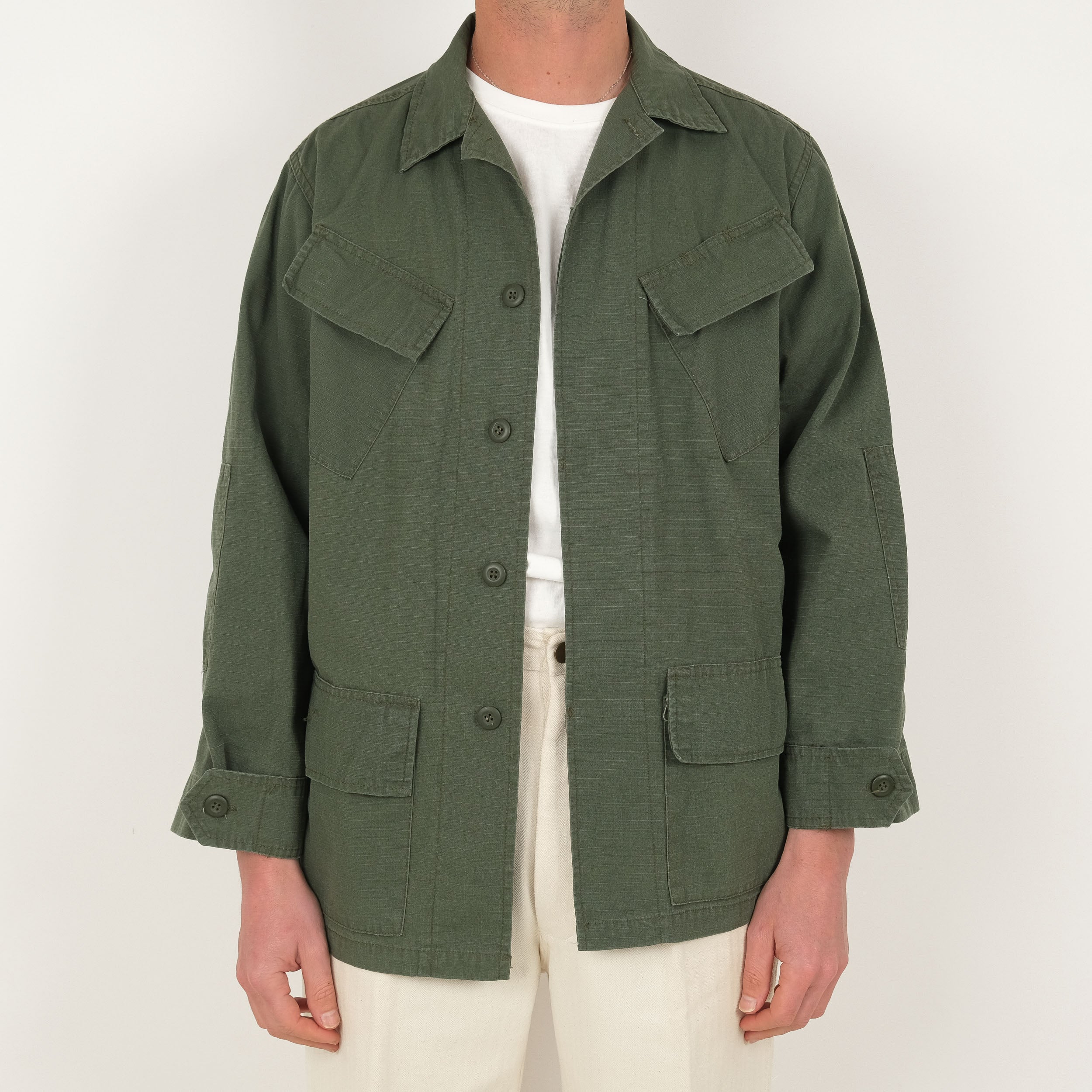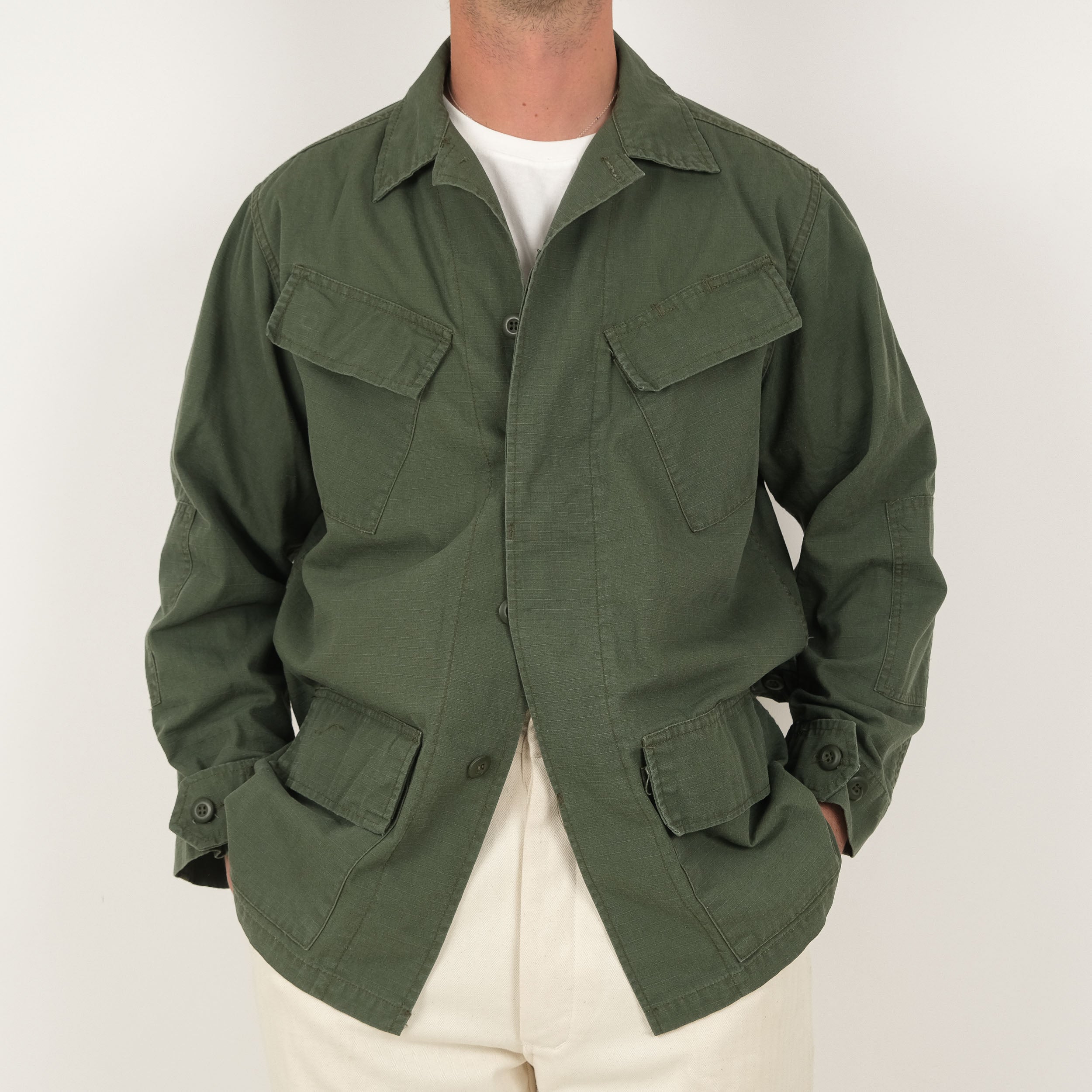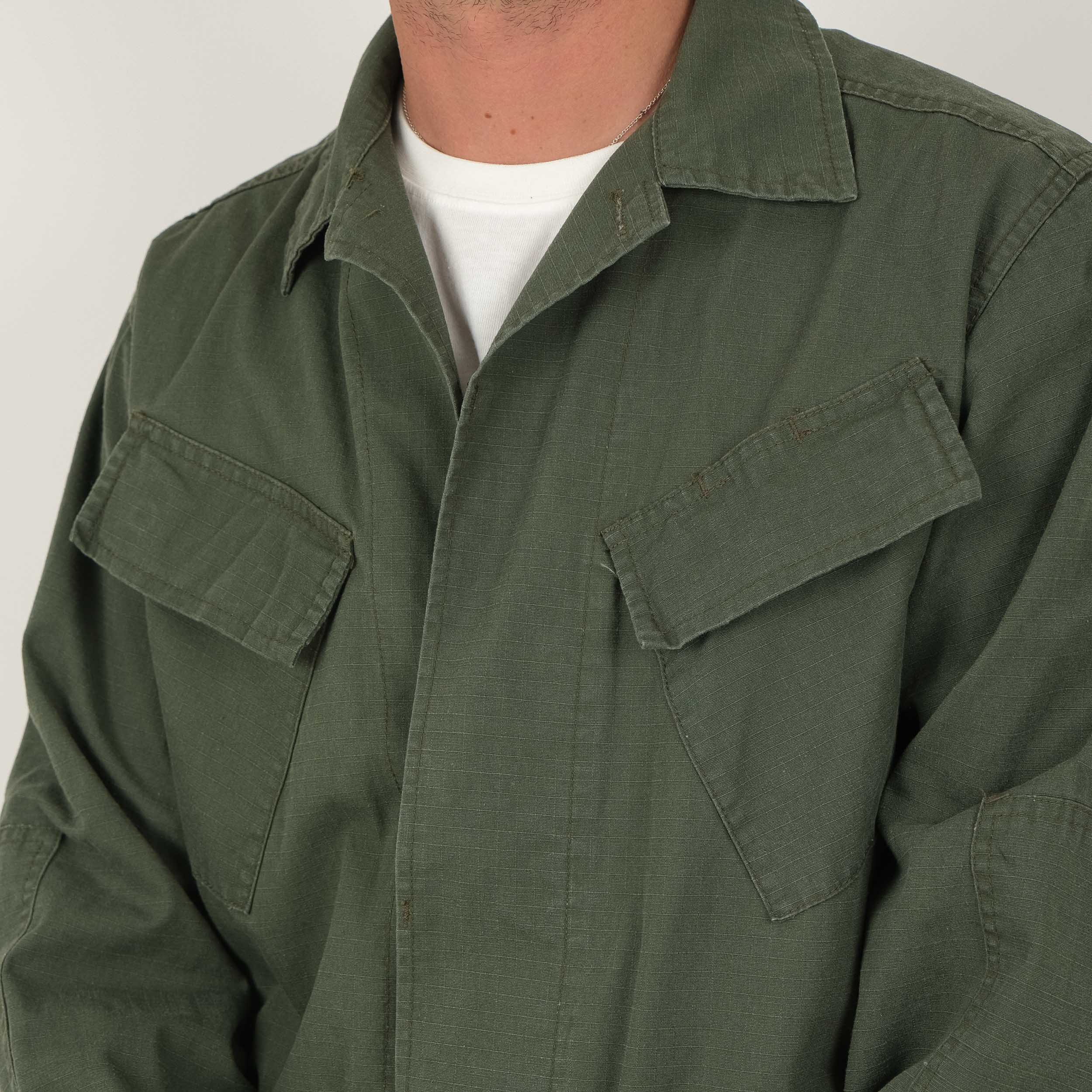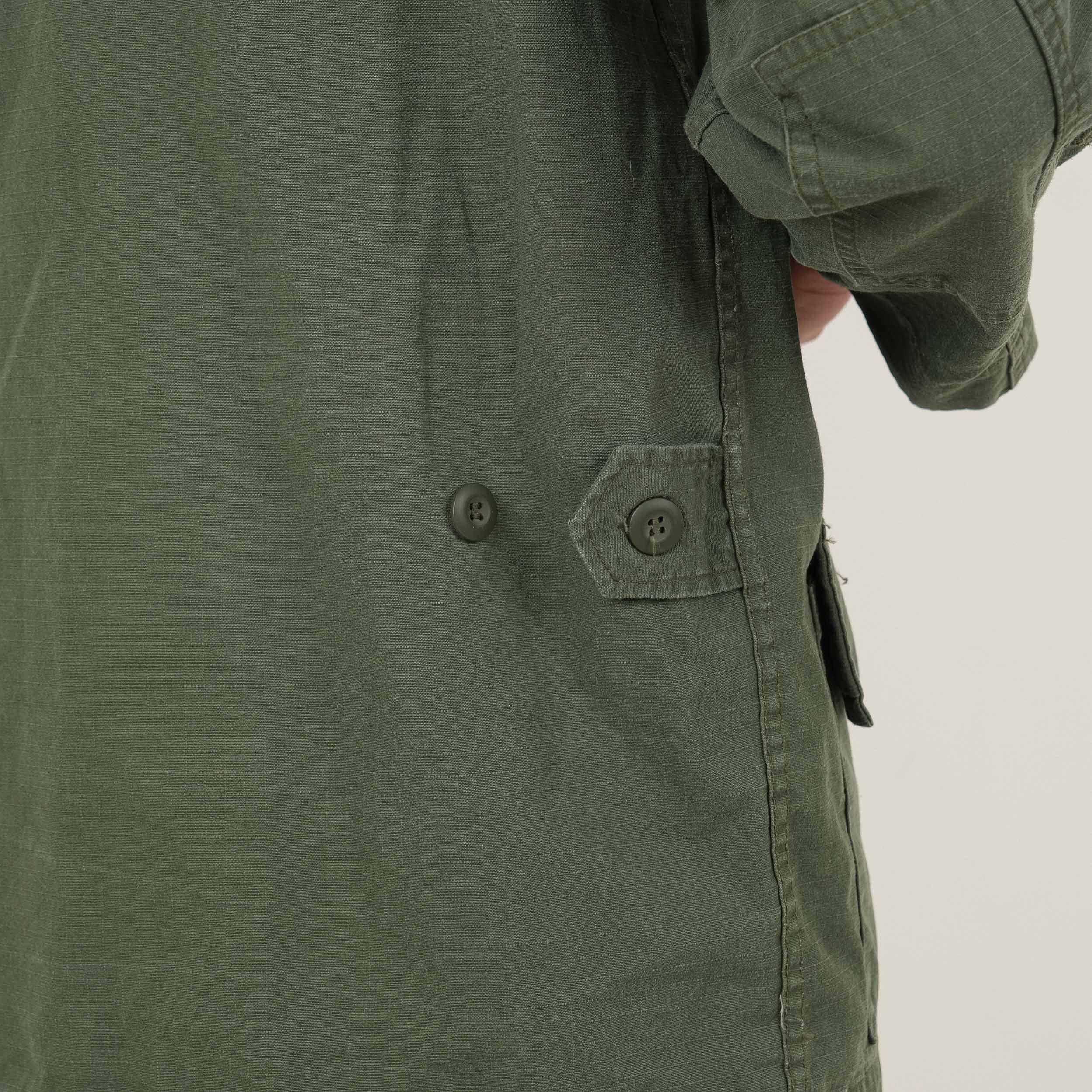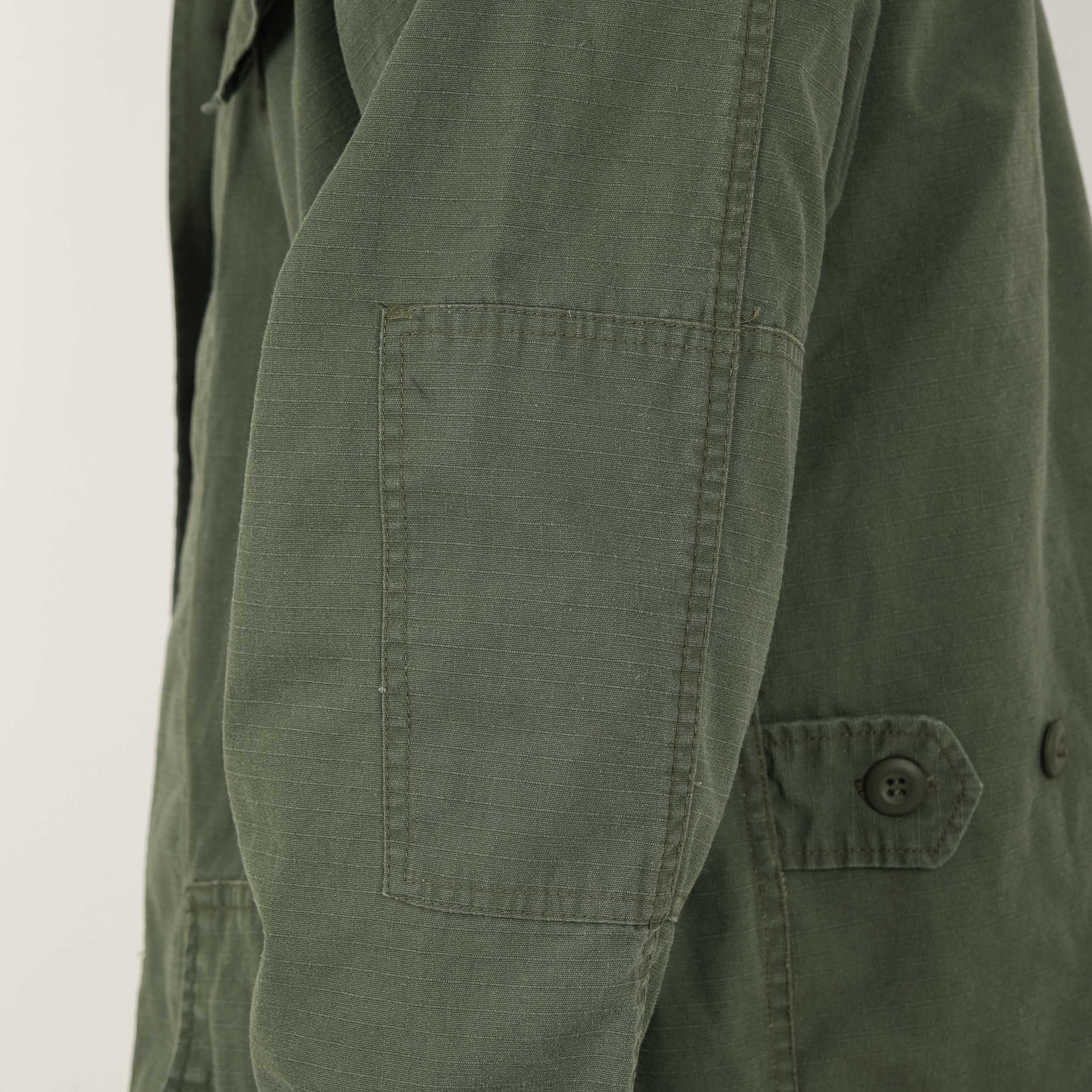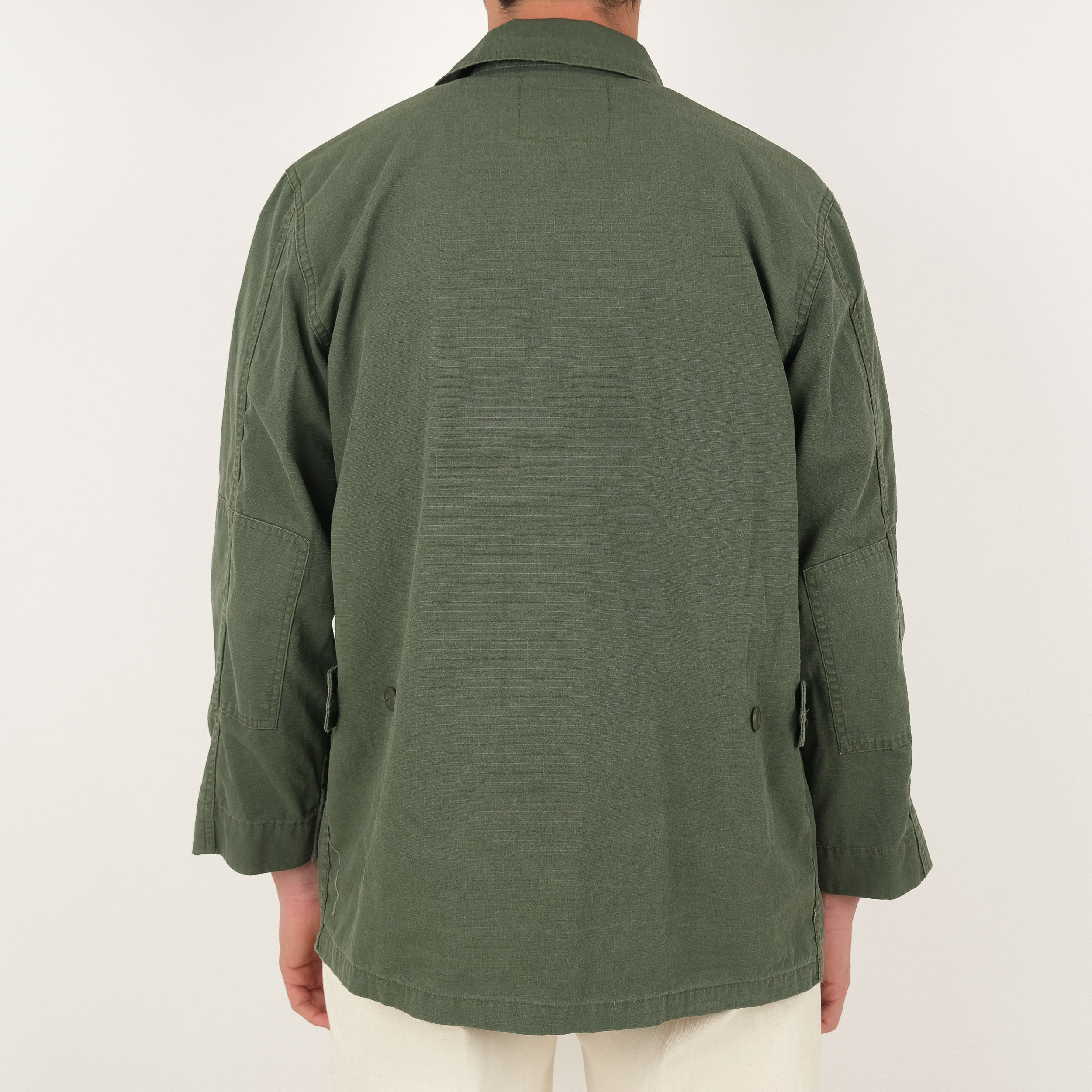 TRANSITION JUNGLE SHIRT
€ 85.00
Regular price
€ 135.00
off
ERA : 90s VINTAGE US PRODUCTION
Introducing the Jungle Transition Vintage 90s Cotton Shirt! Step back in time and embark on a retro adventure with this rare Cotton Shirt. Inspired by the iconic Vietnam war jungle shirt, this shirt is modern and is a perfect addition to your wardrobe for both style and practicality.
The bold patterns and earthy tones of this transition us army jacket capture the essence of military design. Crafted from high-quality, breathable cotton, this shirt ensures maximum comfort even in the most humid jungle conditions. 
Built to withstand the rigors of the jungle or the urban jungle, this shirt is not only stylish but also durable. It can handle your outdoor adventures and stand the test of time as a timeless fashion statement.
This Shirt is designed for versatility. Pair it with your favorite jeans for a casual, laid-back look, or dress it up with khakis for a more polished appearance. Wear it as an open over-shirt or buttoned up for a complete 90s-inspired ensemble.
Eco-Friendly: We care about the environment, which is why our Vintage 90s Cotton Shirt was found in a closed Army Navy store in DAKOTA. Wearing old stock is the most sustainable practices. Join us in reducing your carbon footprint while rocking this retro gem.
Limited STOCK: Don't miss out on this limited-edition piece of nostalgia. Our this shirt is a collector's dream, so grab yours while supplies last.Limited vintage stock
ORIGIN : US PATTERN, GOVT CONTRACTOR
CONDITION : DEADSTOCK
FABRIC : 100% COTTON
Size Guide
Our model Clément is 1m78, 65kg and wears size Medium.
SMALL
Shoulder width :

[cm 46]

Chest width :

[cm 53]

Centre backlength:

[cm 74]

Sleevelength:

[cm 57]
MEDIUM
Shoulder width :

 

[cm 49]

Chest width :

 

[cm 55]

Centre backlength:

 

[cm 75]

Sleevelength:

 

[cm 59]
LARGE
Shoulder width :

 

[cm 51]

Chest width :

 

[cm 65]

Centre backlength:

 

[cm 80]

Sleevelength:

 

[cm 61]
X-LARGE
Shoulder width :

 

[cm 56]

Chest width :

 

[cm 73]

Centre backlength:

 

[cm 82]

Sleevelength:

 

[cm 64]
XX-LARGE
Shoulder width :

 

[cm 60]

Chest width :

 

[cm 76]

Centre backlength:

 

[cm 85]

Sleevelength:

 

[cm 68]

 
TRANSITION JUNGLE SHIRT
€ 85.00
Regular price
€ 135.00